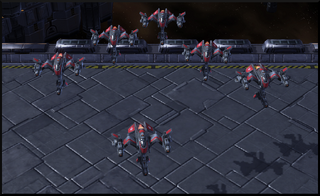 Description
Edit
The Wraith is a very agile flying unit. Able to Cloak and attack both ground and air, it excels at surgical strikes and surprise harassment, especially in the early game. Has the same movement speed as most fast flying units, such as Mutalisks and attacks with a medium range. The anti-air attack is much stronger than the anti-ground one, especially against armored targets.
Unit Information
Edit
Type: Armored - Mechanical
Cost:
150

100

2
Build time: 50 seconds
Life: 120
Energy: 50/200
Armor: 0
Movement Speed: 3.74
Sight Range: 7
Built from: Starport

Weapon
: Gemini Missiles
Damage: 10x2 (Explosive Damage)
+1 damage each weapon upgrade
Attack speed: 1.31
Range: 5
Attacks: Air
Weapon
: Burst Lasers
Damage: 5x2
+1 damage each weapon upgrade
Attack speed: 1.79
Range: 5
Attacks: Ground
Abilities
Edit
Cloak (Toggle)
Energy: 2 (+3 per second)


Cloaks the unit, preventing enemy units from seeing or attacking it. A cloaked unit will only be revealed by detectors or effects.
Upgrades
Edit
Wraith Cloak
Cost: 150 150
Research Time: 87 seconds


Enables Wraiths to use the Cloak ability. Cloak renders a unit invisible to enemies unless revealed by detectors or effects.

Researched from Starport Tech Lab.
Related Links
Edit
Ad blocker interference detected!
Wikia is a free-to-use site that makes money from advertising. We have a modified experience for viewers using ad blockers

Wikia is not accessible if you've made further modifications. Remove the custom ad blocker rule(s) and the page will load as expected.