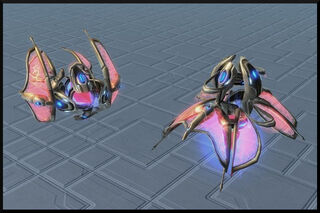 Description
Edit
The Warp Prism is a flying transport unit. Can deploy to Phasing Mode for creating a power field. Phasing Warp Prisms are stationary but gain extra shields. The Warp Prism is pretty slow at first, being quite slower than a Dropship, but can be upgraded with Gravitic Drive to make it one of the fastest air units in the game.
Unit Information
Edit
Type: Mechanical - Psionic - Armored
Cost:
200

0

2
Build time: 50 seconds
Shields: 60 (100 in Phasing Mode)
Life: 80
Armor: 0
Movement Speed: 2.49 (Can be upgraded to 3.73 by researching Gravitic Drive)
Sight Range: 8 (9 in Phasing Mode)
Built from: Robotics Facility

Abilities
Edit
Phasing Mode

Transforms the Warp Prism to Phasing Mode and generates a power field similar to that of a Pylon. The Warp Prism gains +40 shields and cannot move in this mode.
Transport Mode

Reverts the Warp Prism back to Transport Mode, allowing it to move and removing the generated power field.
Load

Loads units into the Warp Prism's matrix. Right-clicking the Warp Prism with other units selected will cause the Warp Prism to attempt to Load them.
Unload All

Unloads all units. This can be targeted on the Warp Prism itself to drop units while continuing to move.
Upgrades
Edit
Gravitic Drive
Cost: 150 150
Research Time: 138 seconds


Increases the movement speed of Warp Prisms by 50%.

Researched from Robotics Bay.
Related Links
Edit