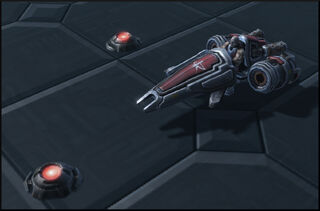 Description
Edit
Vultures are very fast anti-ground skirmish units which are very efficient against Light units. When upgraded with Ion Thrusters, Vultures are the fastest-moving ground units in the game. They can also be upgraded to lay Spider Mines, which burrow into the ground and wait for ground units to come into range before detonating. Certain ground units, those with the Hover attribute, do not trigger spider mines. This notably includes workers and other Vultures.== Unit Information ==
Type: Mechanical - Medium - Hover
Cost:
75

0

2
Build time: 25 seconds
Life: 80
Armor: 0
Movement Speed: 3.74 (Can be upgraded to 5.61 by researching Ion Thrusters)
Sight Range: 8
Built from: Factory

Weapon
: Fragmentation Grenade
Damage: 20 (Concussive Damage)
+2 damage each weapon upgrade
Attack speed: 1.79
Range: 4
Attacks: Ground
Abilities
Edit
Use Spider Mine
Range: 0.1
Cooldown: 3 seconds


Deploys a Spider Mine at a target location. Once deployed, the Spider Mine will burrow into the ground and become hidden. When enemy ground units pass nearby, the Spider Mine will unburrow, chase down the unit, and detonate in melee range for 125 Explosive Damage). Spider Mines will not activate when hovering units enter their activation radius — which notably includes workers and other Vultures — and will not deal damage if they are destroyed mid-launch.

Requires at least 1 Spider Mine remaining on the Vulture (3 max).
The following hovering ground units do not trigger spider mines:
Protoss
Terran
Zerg
Spider Mine
Cost: 100 100
Research Time: 75 seconds


Allows Vultures to plant Spider Mines on the ground. Each Vulture will gain a stock of 3 Spider Mines. These are consumed when the mines are planted, and they cannot be replenished.

Researched from Factory Tech Lab.
Ion Thrusters
Cost: 100 100
Research Time: 90 seconds


Increases the movement speed of Vultures by 50%.

Researched from Factory Tech Lab.
Related Links
Edit