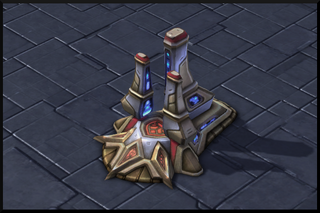 Description
Edit
The Twilight Council is an advanced structure that contains a speed upgrade for Zealots and allows the construction of the Templar Archives. It also unlocks the second and third level of ground weapon, ground armor and shields upgrades at the Forge.
Building Information
Edit
Attributes: Armored - Structure
Cost:
150

100
Build time: 50 seconds
Shields: 500
Hit Points: 500
Armor: 1
Sight Range: 9
Requires: Cybernetics Core
Unlocks: Templar Archives
Upgrades
Edit
Leg Enhancements
Cost: 150 150
Research Time: 111 seconds


Increases the movement speed of Zealots by 50%.
Related Links
Edit
Ad blocker interference detected!
Wikia is a free-to-use site that makes money from advertising. We have a modified experience for viewers using ad blockers

Wikia is not accessible if you've made further modifications. Remove the custom ad blocker rule(s) and the page will load as expected.