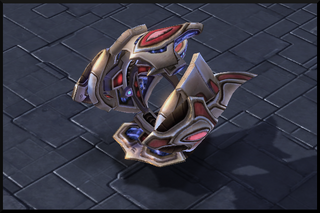 Description
Edit
The Stargate is an advanced Protoss Structure. Produces Sentinels, Corsairs, Scouts, Arbiters and Carriers. Carriers require a Fleet Beacon, while Arbiters require an Arbiter Tribunal. When a unit is being produced an hologram resembling the unit can be seen at the center of the Stargate.
Building Information
Edit
Attributes: Armored - Structure
Cost:
150

150
Build time: 58 seconds
Shields: 600
Hit Points: 600
Armor: 1
Sight Range: 9
Requires: Cybernetics Core
Produces:
Unlocks
:
Fleet Beacon
Related Links
Edit
Ad blocker interference detected!
Wikia is a free-to-use site that makes money from advertising. We have a modified experience for viewers using ad blockers

Wikia is not accessible if you've made further modifications. Remove the custom ad blocker rule(s) and the page will load as expected.