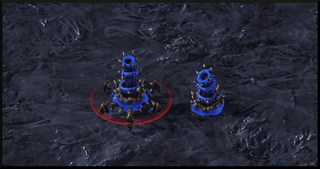 Description
Edit
Spore Crawlers are anti-air defensive structures. Once constructed, they can Uproot to become mobile and Root elsewhere (on Creep). While uprooted, they cannot attack, and can be shuttled in friendly transports, such as Overlords and through the Greater Nydus Network. Spore Crawlers also function as Detectors while rooted.
Building Information
Edit
Attributes: Armored - Biological - Structure
Cost:
75

0
Build time: 33 seconds
Hit Points: 400
Armor: 1
Sight Range: 11
Requires: Evolution Chamber

Weapon
: Acid Spew
Damage: 15
+0 damage each weapon upgrade
Attack speed: 0.84
Range: 7
Attacks: Air
While Uprooted, Spine Crawlers have 0.94 movement speed (2.35 on Creep).
Abilities
Edit
Detector

This structure can detect cloaked, burrowed, and hallucinated units.
Uproot

Uproots the SporeCrawler. An uprooted Spore Crawler has the ability to move but cannot attack, and it moves much faster on Creep. Can be loaded into and overlord or a nydus worm.
Root
Duration: 6 seconds


Roots the uprooted Spore Crawler at a target location (on Creep). A rooted Spore Crawler cannot move, but has the ability to attack. The Spore Crawler will dig for about 10 seconds while rooting before it is able to attack or detect again.
Related Links
Edit