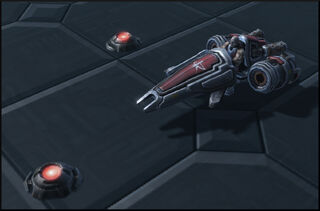 Description
Edit
The Spider Mine is unit placed by Vultures which buries in the ground and awaits passing enemy ground units. When a non-hovering ground unit enters its detection range, it will launch towards it and detonate for 125 Explosive Damage. Deals splash damage in a large area.
Unit Information
Edit
Type: Light - Mechanical - Robotic
Cost:
0

0

0
Build time: 1.1 seconds
Life: 20
Armor: 0
Movement Speed: 9.32
Sight Range: 4
Built from: Vulture
Requires: Spider Mines researched.

Weapon
: Spider Mines
Damage: 125 (Explosive Damage)
+0 damage each weapon upgrade
Attack speed: 0.83
Range: 3
Attacks: Ground (non-Hovering units only)
The spider mine deals circular splash damage the following way:
0 - 2.185 100%
2.185 - 2.70 50%
2.70 - 3.60 25%
Related Links
Edit
Ad blocker interference detected!
Wikia is a free-to-use site that makes money from advertising. We have a modified experience for viewers using ad blockers

Wikia is not accessible if you've made further modifications. Remove the custom ad blocker rule(s) and the page will load as expected.