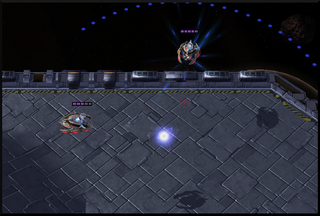 Description
Edit
The Sentinel is Flying support caster. Can use the Null Ward and Glare abilities. Null Ward sets up a unit that Taunts enemy targets. Activating the weapon will cause the sentinel to deal Area of Effect damage directly underneath the caster, slowing the Sentinel while active, but also targets caught by the effect.== Unit Information ==
Type: Mechanical - Medium
Cost:
100

100

3
Build time: 57 seconds
Shields: 60
Life: 60
Energy: 50/200
Armor: 0
Movement Speed: 3.00 (1.2 when using Glare)
Sight Range: 9
Built from: Stargate

Weapon: Disruption Beam (requires toogle activation)

Damage: 25 (Area of effect)
+ damage each weapon upgrade
Attack speed: 1
Range: Melee
Attacks: Ground
Abilities
Edit
Null Ward
Energy: 50
Range: 5
Duration: 80 seconds


Places a Null Ward at the targeted location. After a very short delay, the Null Ward will activate and bait enemy units to attack it. When the unit is within range of fire from an enemy target, this target will always try to prioritize attacking the nullward, unless manually ordered otherwise. The null ward has 800 hp and will lose 10 hp every second, so it can last for 80 seconds when unharmed, however any damage it receives will cause it to dissapear faster.
Glare (Currently Removed)***
Energy: 25
Cooldown: 13 seconds
Duration: 14 seconds


Enables the Sentinel to detect enemy cloaked and burrowed units within its sight range in a 120° forward arc. The Sentinel movement speed is reduced to 40% of its original value. This effect lasts for 14 seconds.
The Sentinel is primarily used for harassment. Null Ward is a strong zoning ability, but should be used when the Sentinel is present for large battles, as it provides more utility than the low DPS of the unit. Glare is a useful source for detection during an emergency, but producing Observers is advised for long-term detection and scouting.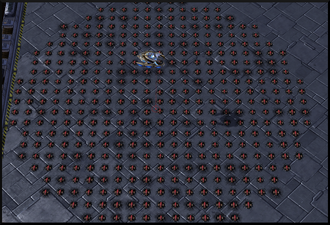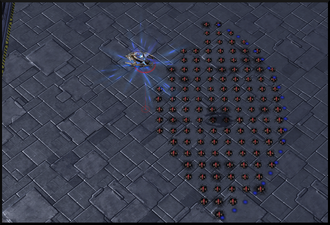 Related Links
Edit