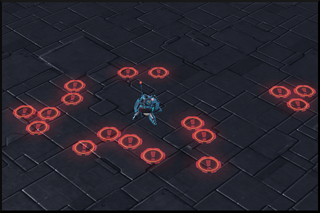 Description
Edit
The Sensor Drone is a cloaked structure created by a Ghost. Allied biological units get a small (+0.9) speed bonus within 5 range from the Sensor Drone. The speed buff has no effect on workers.
Sensor Drones have no vision, but show a "!" at the position of enemy units nearby. (like SC2 Sensor Towers, see image)
Building Information
Edit
Attributes: Armored - Mechanical - Structure - Summoned
Cost:
0

0, 50 Energy
Build time: 0 seconds
Hit Points: 60
Armor: 0 (Can be increased to 2 by researching Structure Armor)
Sight Range: 0

Related Links
Edit
Ad blocker interference detected!
Wikia is a free-to-use site that makes money from advertising. We have a modified experience for viewers using ad blockers

Wikia is not accessible if you've made further modifications. Remove the custom ad blocker rule(s) and the page will load as expected.