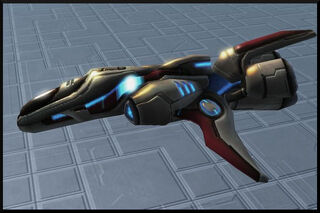 Description
Edit
The Scout is a versatile air-superiority fighter. Scouts start with a below average speed (for being air units) but they can be upgraded to make them faster by researching Gravitic Thrusters. They come with the innate ability to use Disruption Web to prevent units and buildings from attacking in a small area.
Scouts deal great amounts of single-target Explosive damage against air units, making them best against large flying units with a lot of armor, such as Battlecruisers, Carriers and Devourers, while Corsairs are generally better against large numbers of smaller and less armored targets. Corsairs are also as fast as speed-upgraded Scouts by default.
Scouts also have a weak anti-ground attack.
Unit Information
Edit
Type: Armored - Mechanical
Cost:
200

125

3
Build time: 67 seconds
Shields: 100
Life: 150
Energy: 50/200
Armor: 0
Movement Speed: 2.8 (Can be increased to 3.72 by researching Gravitic Thrusters)
Sight Range: 10
Built from: Stargate

Weapon: Anti-Matter Missiles

Damage: 14x2 (Explosive Damage)
+1 damage each weapon upgrade
Attack speed: 1.4
Range: 5
Attacks: Air
Weapon: Photon Blaster

Damage: 8 (Normal Damage)
+1 damage each weapon upgrade
Attack speed: 1.79
Range: 5
Attacks: Ground
Abilities
Edit
Disruption Web
Energy: 100
Range: 9
Effect Radius: 2.3
Duration: 20 seconds


Deploys a Disruption Web at a target location. Any units and buildings caught inside the Disruption web are prevented from attacking.
Upgrades
Edit
Gravitic Thrusters
Cost: 100 100
Research Time: 100 seconds


Increases the movement speed of Scouts to 3.72

Researched from the Fleet Beacon.
Related Links
Edit