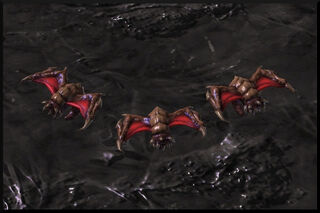 Description
Edit
Scourges are Zerg's powerful anti-air unit. These small, speedy units hatch from larvae two at a time, and exist for the sole purpose of chasing enemy air units into melee range and exploding. Similar to shots from Siege Tanks in Siege Mode, multiple Scourges can hit a target that would be destroyed by fewer; every Scourge that is not following a "Move" order when it reaches melee range with an enemy flyer will detonate.
Unit Information
Edit
Type: Light - Biological
Cost:
25

75
1 (for two)
Build time: 25 seconds
Life: 25
Armor: 2 (+1 per upgrade)
Movement Speed: 3.74
Sight Range: 5
Built from: Larva (two per egg)
Requires: Spire or Greater Spire

Weapon
: Suicide
Damage: 110
+0 damage each weapon upgrade
Attack speed: Instant
Range: Melee
Attacks: Air
Related Links
Edit
Ad blocker interference detected!
Wikia is a free-to-use site that makes money from advertising. We have a modified experience for viewers using ad blockers

Wikia is not accessible if you've made further modifications. Remove the custom ad blocker rule(s) and the page will load as expected.