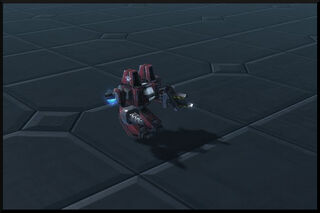 Description
Edit
The SCV is a basic Terran worker unit. Can gather resources and build Terran structures. SCVs can also repair damaged mechanical buildings and units.
SCVs have 20 HP more than Drones and Probes and attack faster (0.9 vs 1.31 attack speed, 32% faster) but they have shorter range and lack moving shot micro. They also have no automatic health regeneration (even though they can repair and be repaired).
Apart from being built at a Command Center, Orbital Command or Planetary Fortress, SCVs can also be created using the Calldown SCV ability from the Orbital Command for 25 energy,
50 (and

1).
Unit Information
Edit
Type: Light - Biological - Mechanical - Hover
Cost:
50

0

1
Build time: 17 seconds
Life: 60
Armor: 0
Movement Speed: 2.8
Sight Range: 7
Built from: Command Center

Weapon: Fusion Cutter

Damage: 5
+0 damage each weapon upgrade
Attack speed: 0.9
Range: Melee (0.5)
Attacks: Ground
Abilities
Edit
Build Structure

Used to construct basic Terran structures.
Build Advanced Structure

Used to construct advanced Terran structures.
Repair (Autocast)

Consumes minerals to restore Hit Points to damaged structures and units.
Related Links
Edit