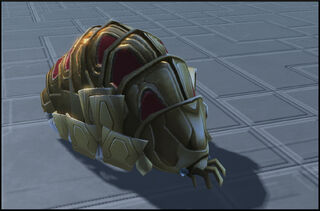 Description
Edit
The Reaver is a slow artillery unit. It attacks by launching Scarabs, small explosive drones at targets. The Scarabs are housed inside the Reaver and take a small cost and time to build. This is similar to the relationship between Carriers and Interceptors. Even though Reavers have a relatively high total defense, 100 life and 80 shields, they are still fragile for their cost due to the long cooldown of their attack and to their low mobility.
Unit Information
Edit
Type: Armored - Mechanical - Massive
Cost:
200

100

4
Build time: 58 seconds
Shields: 80
Life: 100
Armor: 1
Movement Speed: 1
Sight Range: 10
Built from: Robotics Facility
Requires: Robotics Bay

Weapon: Scarab
Damage: 100 (Splash)(Explosive) (Can be upgraded to 125 by researching Plasma Charge)
Splash radius: 0 - 0.72 (100%), 0.72 - 1.45 (50%), 1.45 - 2.16 (25%)
Has a 1.25 s attack delay when dropped from a Warp Prism
Does not benefit from regular weapon upgrades
Attack speed: 3.56
Range: 8
Attacks: Ground
Note: There is a small delay (1.17 s) from the explosion to the moment in which damage is actually applied, so that a unit running away from the Scarab can take less damage from the explosion. A 2.25 movement speed unit (e.g. Siege Tank, Medic, Defiler) moving away from the explosion should only take 50% damage.
Abilities
Edit
Build Scarab
Cost: 15 0
Duration: 9 (6 after researching Aurata Catalyst) seconds


Constructs Scarabs that automatically attack the Reaver's target. Scarabs are explosive drones that detonate on impact, dealing massive area damage. Reavers may not attack without Scarabs.
Plasma Charge
Cost: 200 200
Research Time: 129 seconds


Increases the Scarabs damage by 25

Researched from Robotics Bay.
Aurata Catalyst
Cost: 150 150
Research Time: 138 seconds


Decreases the build time of the Reaver's Scarabs by 3 seconds.

Researched from Robotics Bay.
Uses and counters
Edit
Reavers are usually used in conjunction with Warp Prisms to make up for the slowness and fragility of the unit. This combination can be used for harassment, defense or as part of the main Protoss army.
Related Links
Edit