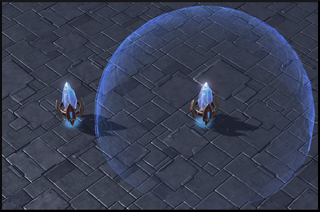 Description
Edit
Pylons provide

Psi, allowing a Protoss player to create more units. They also create power fields to allow construction of nearby structures, which will be de-powered if all supporting Pylons are destroyed. Pylons can be Energized by a Nexus to transfer its shields to nearby friendly units.
Units produced by Warp Gates must also be produced on top of power fields, granted either by Pylons or by Warp Prisms in Phasing Mode.
Building Information
Edit
Attributes: Armored - Structure
Cost:
100

0 (Provides

8)
Build time: 25 seconds
Shields: 300
Hit Points: 300
Armor: 1
Sight Range: 9
Produces: Power field (Radius = 7.5)
Abilities
Edit
Energize (Autocast)
Effect Radius: 3.5
Duration: 60 seconds


Creates a bubble around the Pylon which rapidly restores the shields of units within it, at the cost of the Pylon's own shields.

Regenerates/drains shields at a rate of 13 shield energy per second.

Requires Energize Pylon cast from Nexus upgraded with Khaydarin Citadel.
Related Links
Edit