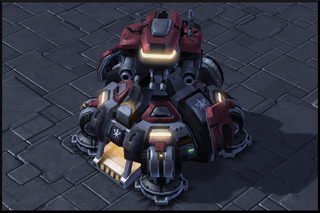 Description
Edit
The Planetary Fortress is one of the two permanent upgrades available to a Command Center. Once upgraded, the Planetary Fortress continues to function as a resource gathering point, but loses its ability to Lift Off (unlike the Command Center's other upgrade, the Orbital Command); however, in exchange, it gains a powerful defensive turret which can be activated to temporarily fire on nearby enemies.
Building Information
Edit
Attributes: Armored - Mechanical - Structure
Cost:
100

150 (Provides

11)
Build time: 48 seconds
Hit Points: 1500
Armor: 1 (Can be upgraded to 3 by researching Structure Armor)
Sight Range: 11
Requires: Engineering Bay
Produces:
Weapon
: Ibikis Cannon (Requires activation)
Damage: 38
+0 damage each weapon upgrade
Attack speed: 1.62
Range: 6
Attacks: Ground
The Ibikis Cannon deal circular splash damage the following way:
0.5 radius : 38 damage
0.5 - 0.8 radius: 28 damage
0.8 - 1.25 radius: 14 damage
Abilities
Edit
Activate Ibikis Cannon
Cooldown: 86 seconds
Duration: 30 seconds


Activates the Planetary Fortress's defensive cannon, allowing it to attack nearby ground units for a short duration.
Related Links
Edit