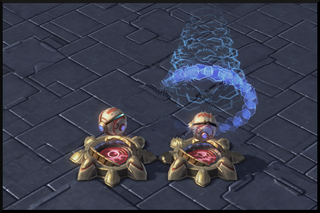 Description
Edit
The Photon Cannon is a defensive Protoss structure able to attack ground and air. Detects cloaked and burrowed units. Can be Chrono Boosted by the Nexus to make it attack faster for a short duration.
Building Information
Edit
Attributes: Armored-Structure
Cost:
150

0
Build time: 35 seconds
Shields: 100
Hit Points: 100
Armor: 1
Sight Range: 11
Requires: Forge

Weapon
: Photon Cannon
Damage: 20
+0 damage each weapon upgrade
Attack speed: 1.22 (0.95 when Chrono Boosted)
Range: 7
Attacks: Ground and Air
Abilities
Edit
Detector

This unit can detect cloaked, burrowed and hallucinated units.
Chrono
Duration: 10 seconds


If Chrono Boost is used on a Photon Cannon it attacks 28% faster for 10 seconds
Related Links
Edit
Ad blocker interference detected!
Wikia is a free-to-use site that makes money from advertising. We have a modified experience for viewers using ad blockers

Wikia is not accessible if you've made further modifications. Remove the custom ad blocker rule(s) and the page will load as expected.