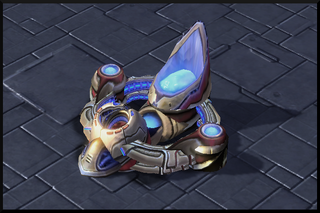 Description
Edit
The Observatory is an advanced Protoss Structure. Allows the construction and provides upgrades for Observers.
Building Information
Edit
Attributes: Armored - Structure
Cost:
50

100
Build time: 25 seconds
Shields: 250
Hit Points: 250
Armor: 1
Sight Range: 9
Requires: Robotics Facility
Unlocks: Observers from Robotics Facility
Upgrades
Edit
Gravitic Boosters
Cost: 100 100
Research Time: 138 seconds


Increases the movement speed of Observers.
Phase Shift
Cost: 100 100
Research Time: 100 seconds


Allows Observers to use the Phase Shift Ability, which briefly makes enemy units ignore the Observer unless ordered to attack.
Related Links
Edit