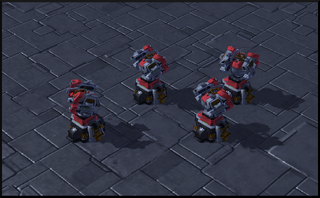 Description
Edit
The Missile Turret is an anti-air defensive structure. Detects cloaked and burrowed units.
Building Information
Edit
Attributes: Armored - Mechanical - Structure
Cost:
75

0
Build time: 25 seconds
Hit Points: 200
Armor: 1 (Can be upgraded to 3 by researching Structure Armor)
Sight Range: 11
Requires: Engineering Bay

Weapon: Longbolt Missile

Damage: 10x2 (Explosive Damage)
+0 damage each weapon upgrade
Attack speed: 0.7055
Range: 7
Attacks: Air
Abilities
Edit
Detector

This unit can detect cloaked, burrowed, and hallucinated units.
Related Links
Edit