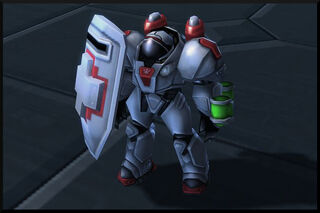 Description
Edit
The Medic is a support trooper, whose main function is healing nearby biological units. Can use Optic Flare, which reduces the target's sight range and cast range greatly. Can be upgraded to use Restoration, which removes all negative effects, such as Plague, from a unit.
Unit Information
Edit
Type: Biological - Medium
Cost:
50

25

1
Build time: 25 seconds
Life: 60
Energy: 50/150
Armor: 1
Movement Speed: 2.25
Sight Range: 9
Built from: Barracks with Tech Lab (Unless player controls a Fusion Core)

Abilities
Edit
Heal (Autocast)
Energy: Recovers 1.5 Lift per point of energy
Range: 1


Heals a friendly biological target.
Optical Flare
Energy: 50
Range: 10
Duration: 35 seconds


Reduces the unit's sight range to 0 for 35 seconds. Also reduces spell cast range of all spellcasters to 4. Blind units can't detect enemies.
Restoration
Energy: 50
Range: 6


Removes all negative effects from target unit.

Requires Restoration research from Barracks Tech Lab.
Upgrades
Edit
Restoration
Cost: 100 100
Research Time: 65 seconds


Enables Medics to use the Restoration ability.

Researched from Barracks Tech Lab.
Related Links
Edit