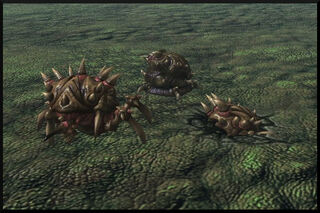 Description
Edit
The Lurker is a morphed Hydralisk, with the innate ability to Burrow that deals splash damage in a line with a medium range. They are especially useful against low ranged or melee small enemy units such as Marines and Zealots. Can only attack while burrowed. Their attack can be dodged with precise micro by staying as far as possible from the Lurker and moving rapidly sideway once the spines are lanched.
Unit Information
Edit
Type: Biological - Medium
Cost:
125

125
2
Build time: 33 seconds
Life: 125
Armor: 1
Movement Speed: 3.37
Sight Range: 8 (9 when burrowed)
Built from: Hydralisk
Requires: Lurker Aspect

Weapon: Spines

Damage: 20
+2 damage each weapon upgrade
Attack speed: 2.2
Range: 6
Attacks: Ground
Abilities
Edit
Burrow

Burrow allows a unit to take cover underground, rendering it unable to attack. A burrowed unit is invisible unless revealed by detectors or effects. Lurker burrow does not require a research
Passive

Orders the Lurker to ignore enemies that are within range.
Aggressive

Orders the Lurker to engage nearby enemies at will.
Related Links
Edit