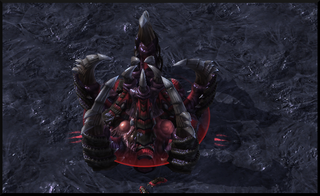 Description
Edit
Further evolved version of the Hatchery that allows additional upgrades and structures to be produced. Also spawns all Zerg units and receives gathered resources.
Building Information
Edit
Attributes: Armored - Biological - Structure
Cost:
200

150 (Provides
2 )
Build time: 100 seconds
Hit Points: 2500
Armor: 1
Sight Range: 12
Requires:
Unlocks
:
Upgrades
Edit
Burrow
Cost: 100 100
Evolution Time: 70 seconds


Enables all Zerg ground units to use the Burrow ability. Burrow allows a unit to take cover underground, rendering it unable to attack. A burrowed unit is invisible unless revealed by detectors or effects.
Tunneling Claws
Cost: 100 100
Evolution Time: 70 seconds


Allows Drones, Queens, Zerglings, Hydralisks, Defilers, and Ultralisks to move slowly while burrowed.

Requires Burrow.
Pneumatized Carapace
Cost: 100 100
Evolution Time: 110 seconds


Increases the movement speed of Overlords. Increases Overlords sight range by 2.
Ventral Sacs
Cost: 150 150
Evolution Time: 110 seconds


Allows Overlords to transport units.
Related Links
Edit
Ad blocker interference detected!
Wikia is a free-to-use site that makes money from advertising. We have a modified experience for viewers using ad blockers

Wikia is not accessible if you've made further modifications. Remove the custom ad blocker rule(s) and the page will load as expected.