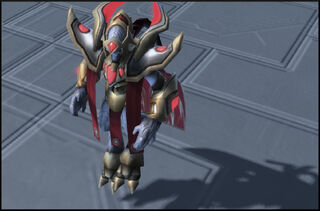 Description
Edit
The High Templar is powerful but fragile and slow psionic master. Can use Hallucination. Can be upgraded to use Psionic Storm.
Can merge with another High Templar to form an Archon.
Unit Information
Edit
Type: Light - Biological - Psionic
Cost:
50

150

2
Build time: 42 seconds / Warp Gate cooldown 52 seconds
Shields: 40
Life: 40
Energy: 50/200 (Can be upgraded to 62/250 by researching Khaydarin Amulet)
Armor: 0
Movement Speed: 1.87
Sight Range: 7
Built from: Gateway / Warp Gate
Requires: Templar Archives

Abilities
Edit
Hallucination
Energy: 50
Range: 7
Duration: 75 seconds


Summons 1 or more Hallucinations of a Protoss unit (4 Probes, 2 Zealots, 2 Stalkers, 2 HT or 1 Scout, Corsair, Archon, Warp Prism, Arbiter) . These hallucinated copies function like the original unit, but they cannot use active abilities and cannot deal damage. Hallucinations last 75 seconds before they disappear.
Psionic Storm
Energy: 75
Range: 9
Effect Radius: 1.75
Duration: 2.7 seconds


Creates a storm of psionic energy that lasts 2.7 seconds, causing up to 112 damage to all units in the targeted area.
Archon Warp
Duration: 17 seconds


Sacrifices 2 High Templars to create an Archon
Psionic Storm
Cost: 200 200
Research Time: 100 seconds


Allows High Templars to use the Psionic Storm ability.

Researched from Templar Archives.
Khaydarin Amulet
Cost: 150 150
Research Time: 138 seconds


Increases the starting energy of High Templar and Dark Archons by 12, and increases their maximum energy by 50.

Researched from Templar Archives.
Related Links
Edit