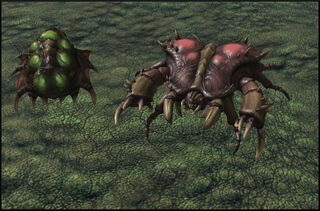 Description
Edit
The Guardian is a slow flying anti-ground artillery unit. It is morphed from a Mutalisk, requiring a Greater Spire. It is the zerg unit with the longest range. Due to being vulnerable to air units, not having a lot of HP for their cost and their slow movement speed they are quite situational, having to use terrain to their advantage in a manner similar to Carriers.
Guardians can be quite good in low numbers to disrupt mining at an expansion defended only by static defense, especially if the opponent has no air to air units.
Unit Information
Edit
Type: Armored - Biological - Massive
Cost:
150

200
2
Build time: 33 seconds
Life: 150
Armor: 2
Movement Speed: 2.05
Sight Range: 10
Built from: Mutalisk
Requires: Greater Spire

Weapon
: Acid Spores
Damage: 25
+3 damage each weapon upgrade
Attack speed: 2.148
Range: 8
Attacks: Ground
Related Links
Edit
Ad blocker interference detected!
Wikia is a free-to-use site that makes money from advertising. We have a modified experience for viewers using ad blockers

Wikia is not accessible if you've made further modifications. Remove the custom ad blocker rule(s) and the page will load as expected.