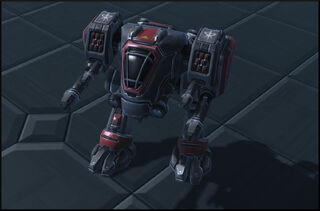 Description
Edit
The Goliath is a heavy-fire support walker that is very strong against air units. It can be upgraded with Charon Boosters to significantly increase its anti-air range. With this upgrade Goliaths range outrange or match all air units expect for Guardians (Carriers being the only air unit to have same range as Goliaths).
Goliaths are the only unit produced from the Factory to attack air units, so they are often made as a response to an air switch (e.g. a Protoss player going Carriers). They are otherwise built in small numbers since other mech units are far more effective against ground targets. Their anti-ground attack has a good 6 range and is effective at clearing Spider Mines but its damage output isn't very good.
Mech players often opt to build Vikings to help against groups of small and fast air units such as Mutalisks because Goliaths are best against armored targets and they aren't very fast (Vikings are much faster and deal splash damage).
Unit Information
Edit
Type: Armored - Mechanical
Cost:
100

50

2
Build time: 33 seconds
Life: 125
Armor: 1
Movement Speed: 2.64
Sight Range: 8
Built from: Factory with Tech Lab (Unless the player controls an Armory)

Weapon
: Autocannon
Damage: 12
+1 damage each weapon upgrade
Attack speed: 1.31
Range: 6
Attacks: Ground
Weapon
: Hellfire Missiles
Damage: 10x2 (Explosive Damage)
+2 damage each weapon upgrade
Attack speed: 1.31
Range: 5 (Can be upgraded to 8 by researching Charon Boosters)
Attacks: Air
Upgrades
Edit
Charon Booster
Cost: 150 150
Research Time: 110 seconds


Increases the attack range of Goliaths' air attacks by 3.

Researched from Factory Tech Lab.
Related Links
Edit