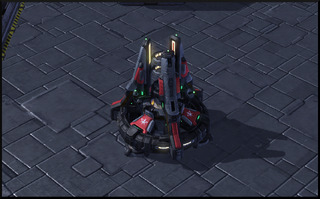 Description
Edit
The Covert Ops is an advanced Terran structure. Allows and contains upgrades for Ghosts. Can build and store Tactical Nukes for use with the Ghost's Calldown Nuke ability.
Building Information
Edit
Attributes: Armored - Mechanical - Structure
Cost:
200

200
Build time: 67 seconds
Hit Points: 1250
Armor: 1
Sight Range: 9
Requires: Barracks
Unlocks: Ghosts at Barracks
Kinetic Destabilizers
Cost: 100 100
Research Time: 60 seconds


Enables ghosts to use the Kinetic Destabilizer ability.
Research Personal Cloaking
Cost: 100 100
Research Time: 111 seconds


Enables ghosts to use Cloak
Abilities
Edit
Arm Silo with Nuke
Cost: 100 100
Research Time: 57 seconds


Arms the Ghost Academy's Silo with a Tactical Nuke.

Nukes take 15 seconds to land, but they deal up to 300 (+200 vs. structures) damage in a large radius.

Use a Ghost to designate the target.

Max 1 Nuke per Ghost Academy.

Requires Fusion Core.
Related Links
Edit
Ad blocker interference detected!
Wikia is a free-to-use site that makes money from advertising. We have a modified experience for viewers using ad blockers

Wikia is not accessible if you've made further modifications. Remove the custom ad blocker rule(s) and the page will load as expected.