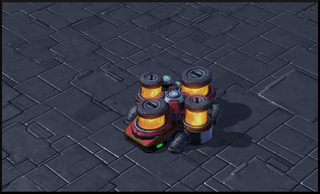 Description
Edit
The Fusion Core is the highest tech Terran structure. Unlocks Science Vessels and Battlecruisers. Contains upgrades for Terran Starport units. The Science Vessel energy upgrade is shared with the Ghost.
Allows the production of Tactical Nukes from the Ghost Academy.
Unlocks level 2 and 3 upgrades from the Armory and the Engineering Bay.
Building Information
Edit
Attributes: Armored - Mechanical - Structure
Cost:
150

150
Build time: 50 seconds
Hit Points: 750
Armor: 1 (Can be upgraded to 3 by researching Structure Armor)
Sight Range: 9
Requires: Starport
Unlocks:
Upgrades
Edit
Weapon Refit
Cost: 100 100
Research Time: 100 seconds


Allows Battlecruisers to use the Yamato Cannon ability.
EMP Shockwave
Cost: 200 200
Research Time: 100 seconds


Allows Science Vessels to use the EMP Shockwave ability.
Irradiate
Cost: 200 200
Research Time: 71 seconds


Allows Science Vessels to use the Irradiate ability.
Titan Reactor
Cost: 150 150
Research Time: 138 seconds


Increases the starting energy of Science Vessels and Ghosts by 12 and their maximum energy by 50.
Related Links
Edit
Ad blocker interference detected!
Wikia is a free-to-use site that makes money from advertising. We have a modified experience for viewers using ad blockers

Wikia is not accessible if you've made further modifications. Remove the custom ad blocker rule(s) and the page will load as expected.