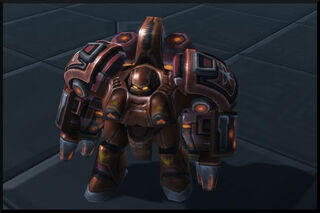 Description
Edit
The Firebat is a specialized anti-infantry attacker. Deals splash damage in a straight line, and is especially effective against light units. Along with the Merc, the Firebat is one of Terran's two units which can deal direct damage underneath Dark Swarm.
Unit Information
Edit
Type: Light - Biological
Cost:
50

25

1
Build time: 20 seconds
Life: 50
Armor: 1
Movement Speed: 2.25 (3.375 while under the effect of Stimpack)
Sight Range: 7
Built from: Barracks with Tech Lab (Unless player controls a Fusion Core)

Weapon: Perdition Flamethrower

Damage: 16 (Concussive Damage)
+2 damage each weapon upgrade
Attack speed: 1.3 (0.65 while under the effect of Stimpack)
Range: Melee (+0.5 in a line behind the target)
Attacks: Ground
Abilities
Edit
Stimpack
Duration: 13 seconds


Injects the unit with powerful stimulants that greatly increases attack and movement speeds for a few seconds. Injures the unit for 10 of the unit's life.
Upgrades
Edit
Stimpack
Cost: 100 100
Research Time: 105 seconds


Enables Marines, Mercs, and Firebats to use the Stimpack ability.

Researched from Barracks Tech Lab.
Related Links
Edit