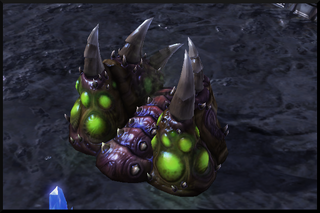 Description
Edit
Mutated on top of a Vespene Geyser, allowing Drones to harvest

Vespene Gas. Normally an Drone returns 8 gas for trip, but when the available stock of Vespene Gas is depleted the Drone returns 2 gas per trip.
Extractors are one of the few zerg structures that function indipendenly from Creep: they can be built at every vespene gas geyser and don't take damage if Creep is not present. This is important for gas steals.
Note that differently from BW, if the extractor morph is interrupted the drone does not automatically gain full health, but only benefits from the normal zerg regeneration, making it regain a maximum of about 9 HP if the extractor is cancelled in the last seconds.
Building Information
Edit
Attributes: Armored - Biological - Structure
Cost:
50

0
Build time: 33 seconds
Shields: 0
Hit Points: 750
Armor: 1
Sight Range: 9

Related Links
Edit
Ad blocker interference detected!
Wikia is a free-to-use site that makes money from advertising. We have a modified experience for viewers using ad blockers

Wikia is not accessible if you've made further modifications. Remove the custom ad blocker rule(s) and the page will load as expected.