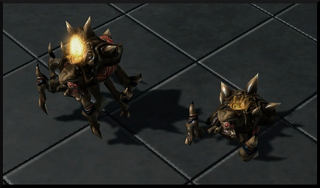 Description
Edit
Eruptors are durable anti-air ground units. They possess a weak ground attack, and an anti-air attack that fires five projectiles at a time, dealing severe splash damage to clumped units. Damage from the Eruptor's anti-air attack can be avoided by moving away from the area it initially targeted. The Eruptor can continue to move once it has begun firing, and the volley will cease midway if the Eruptor is destroyed.
Unit Information
Edit
Type: Armored - Biological
Cost:

125
75

2
Build time: 37 seconds
Life: 125
Armor: 1
Movement Speed: 1.87 (Can be upgraded to 2.8 by researching Vulcan Propulsor)
Sight Range: 8 ( 9 when burrowed)
Built from: Larva
Requires: Viper Nest

Weapon: Mortar

Damage: 16
+1 damage each weapon upgrade
Attack speed: 1.8
Range: 6
Attacks: Ground
Weapon
: Explosive Mortar
Damage: 8x5 (Splash)
+1 (x5) damage each weapon upgrade
Attack speed: 4.1
Range: 6
Attacks: Air
Abilities
Edit
Burrow

Burrow allows a unit to take cover underground, rendering it unable to attack. A burrowed unit is invisible unless revealed by detectors or effects.

Researched from Hatchery, Lair or Hive.
Upgrades
Edit
Vulcan Propulsor
Cost: 50 50
Evolution Time: 60 seconds


Increases the movement speed of Eruptors by 50%.

Researched from Viper Nest.
Related Links
Edit
Ad blocker interference detected!
Wikia is a free-to-use site that makes money from advertising. We have a modified experience for viewers using ad blockers

Wikia is not accessible if you've made further modifications. Remove the custom ad blocker rule(s) and the page will load as expected.