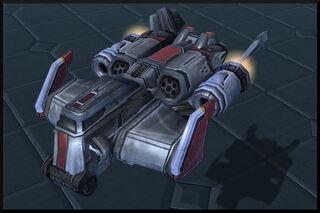 Description
Edit
The Dropship is Terran's Air transport. Has the fastest default movement speed among transport units and it can be upgraded to use the Ignite Afterburner ability to double it for a short period, becoming the fastest unit in the game. Dropships are the most expensive transport units in the game, costing a lot of

, while the other transport units only cost minerals.
Can pick up Siege Tanks in Siege Mode by default. Siege Tanks picked by Dropships are transformed into Tank Mode.
As with other transport units it's important to keep them moving (dancing) because they have a slow acceleration, even though this can be somewhat mitigated by using Ignite Afterburners.
Unit Information
Edit
Type: Armored - Mechanical
Cost:
100

100

2
Build time: 42 seconds
Life: 150
Armor: 0
Movement Speed: 3.07 (6.14 while under the effects of Ignite Afterburner)
Sight Range: 8
Built from: Starport

Abilities
Edit
Load

Loads units into the Dropship's hold. Right-clicking the Dropship with other units selected will cause the Dropship to attempt to Load them.
Unload All

Unloads all units. This can be targeted on the Dropship itself to drop units while continuing to move..
Ignite Afterburner
Cooldown: 27 seconds
Duration: 4.8 seconds


Increases the Dropship's movement speed by 100% for 4.8 seconds.
Upgrades
Edit
Research Ingnite Afterburner
Cost: 100 100
Research Time: 40 seconds


Allows Dropships to use Ignite Afterburner which increases the Dropship's movement speed by 100% for 4.8 seconds.

Researched from Starport Tech Lab.
Related Links
Edit