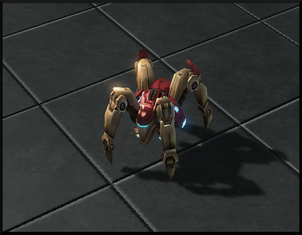 Description
Edit
The Dragoon is a robust ranged ground unit. Dragoons are one of the best all-around units in the game, dealing Explosive Damage to both ground and air and having a good movement speed. Can be upgraded to increase their range by researching Singularity Charge.
Unit Information
Edit
Type: Armored - Mechanical
Cost:
125

50

2
Build time: 42 seconds
Shields: 80
Life: 100
Armor: 1
Movement Speed: 2.95
Sight Range: 8
Built from: Gateway
Requires: Cybernetics Core

Weapon: Phase Disruptor

Singularity Charge
Cost: 150 150
Research Time: 130 seconds


Increases the attack range of Dragoons by 2

Researched from Cybernetics Core.
Related Links
Edit
Ad blocker interference detected!
Wikia is a free-to-use site that makes money from advertising. We have a modified experience for viewers using ad blockers

Wikia is not accessible if you've made further modifications. Remove the custom ad blocker rule(s) and the page will load as expected.