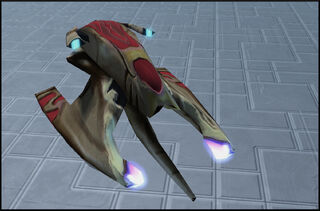 Description
Edit
The Corsair is an agile flying unit that deals area damage to enemy air units. They aren't particulartly sturdy given their cost but they are among the fastest air units.
Corsairs are best used against large groups of small and fragile flyers such as Mutalisks, while the other primary Protoss air fighter, the Scout, is best against powerful armored units such as Battlecruisers.
Low numbers of Scouts can be useful to complement a Corsair fleet because of their Disruption Web ability.
Unit Information
Edit
Type: Mechanical - Medium
Cost:
150

100

2
Build time: 33 seconds
Shields: 80
Life: 100
Armor: 1
Movement Speed: 3.74
Sight Range: 9
Built from: Stargate

Weapon
: Neutraon Pulse-Flare
Damage: 5 (Explosive Damage, splash)
+1 damage each weapon upgrade
Attack speed: 0.48
Range: 5
Attacks: Air
Related Links
Edit
Ad blocker interference detected!
Wikia is a free-to-use site that makes money from advertising. We have a modified experience for viewers using ad blockers

Wikia is not accessible if you've made further modifications. Remove the custom ad blocker rule(s) and the page will load as expected.