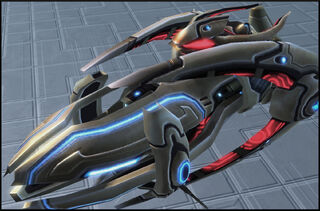 Description
Edit
The Carrier is a slow late game capital ship. Carriers have no direct attacks but build and house Interceptors in a similar fashion to Reavers, with the difference that Interceptors do not sacrifice themselves to attack.
Carriers are arguably the most expensive and time consuming units in the game, especially since they come with no Interceptors, costing
350

250, 117 seconds to make plus
200, 136 seconds to arm them fully (8 interceptors), for a grand total of
550

250, 253 seconds for a full Carrier.
Their main strenghts are the long range and mobility in combat, since they can release their Interceptors at range 8 and retreat to range 12 while the interceptors continue attacking. Interceptors recharge life and shields faster while inside the Carrier. Interceptors do not go inside the Carrier if it's moving, allowing them to be deployed faster. Interceptors speed can be increased by researching Advanced Twin Thrusters, making it easier for Interceptors to move out of range of enemy units between attacks. Their damage is not particularly good for the cost, especially against high-armored targets.
Enemy Anti-Air units such as Goliaths and Hydralisks generally have a easy time dealing with Carriers unless they are heavily massed and used skillfully by exploiting terrain, in a way similar to Guardians.
Unit Information
Edit
Type: Armored - Mechanical - Massive
Cost:
350

250

6
Build time: 117 seconds
Shields: 150
Life: 300
Armor: 4
Movement Speed: 1.87
Sight Range: 11
Built from: Stargate
Requires: Fleet Beacon

Weapon
: Interceptors
Damage: 6
+1 damage each weapon upgrade
Attack speed: 1.92
Range: 8 (12 leash)
Attacks: Ground and Air
Abilities
Edit
Build Interceptor (Autocast)
Cost: 25 0
Duration: 17 seconds


Builds Interceptors that automatically attack the Carrier's target. Carriers may not attack without Interceptors.

Requires the Carrier to have less than 8 Interceptors.
Upgrades
Edit
Advanced Twin Thrusters
Cost: 100 100
Research Time: 83 seconds


Increases the movement speed of Interceptors.

Researched from Fleet Beacon.
Related Links
Edit