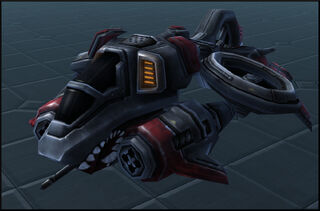 Description
Edit
The Banshee is a tactical-strike aircraft. Attacks ground targets with about the same DPS as a Battlecruiser but with a below average 4 range. Quite fast by default, but slower than other very fast air units such Mutalisks, Wraiths, Corsairs, Scourges, can be upgraded to be slightly faster than them by researching Hellfire Thrusters. Can be upgraded to use Haywire Missiles to deal additional damage to a single ground unit.
Unit Information
Edit
Type: Mechanical - Medium
Cost:
150

100

3
Build time: 57 seconds
Life: 120
Armor: 0
Movement Speed: 3.49 (Can be upgraded to 3.84 with Hellfire Thrusters)
Sight Range: 8
Built from: Starport with Tech Lab

Weapon
: Backlash Rockets
Damage: 10x2
+1 damage each weapon upgrade
Attack speed: 1.46
Range: 4
Attacks: Ground
Abilities
Edit
Haywire Missiles (autocast)
Range: 9
Cooldown: 10 seconds


Launches electrically charged missiles at the target, dealing 30 explosive damage per volley. Cannot be used on structures.

Requires Haywire Missiles Research from Starport Tech Lab.
Upgrades
Edit
Research Haywire Missiles
Cost: 100 100
Research Time: 80 seconds


Allows Banshees to use Haywire Missiles which deal 30 explosive damage.

Researched from Starport Tech Lab.
Hellfire Thrusters
Cost: 100 100
Research Time: 120 seconds


Increases the movement speed of Banshees.

Researched from Starport Tech Lab.
Related Links
Edit