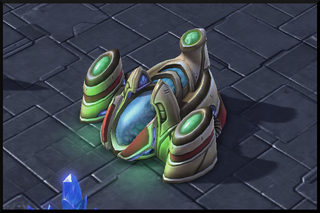 Description
Edit
Warped in on top of a Vespene Geyser, allowing Probes to harvest

Vespene Gas. Normally a Probe returns 8 gas for trip, but when the available stock of Vespene Gas is depleted the Probe returns only 2 gas per trip.
An Assimilator is sometimes built on the opponent's geyser to delay gas (gas steal).
Building Information
Edit
Attributes: Armored - Structure
Cost:
100

0
Build time: 33 seconds
Shields: 450
Hit Points: 450
Armor: 1
Sight Range: 9

Related Links
Edit
Ad blocker interference detected!
Wikia is a free-to-use site that makes money from advertising. We have a modified experience for viewers using ad blockers

Wikia is not accessible if you've made further modifications. Remove the custom ad blocker rule(s) and the page will load as expected.