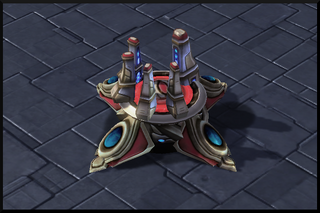 Description
Edit
The Arbiter Tribunal is an advanced Protoss structure. Allows production of and provides upgrades for Arbiters. The Arbiter Tribunal is arguably the highest tech Protoss structure, requiring both complete Templar tech and a Stargate.
Building Information
Edit
Attributes: Armored - Structure
Cost:
200

150
Build time: 50 seconds
Shields: 500
Hit Points: 500
Armor: 1
Sight Range: 9
Requires: Stargate and Templar Archives
Unlocks: Arbiter from Stargate
Upgrades
Edit
Stasis Field
Cost: 150 150
Research Time: 83 seconds


Allows Arbiters to use the Stasis Field ability. Stasis Field places up to 10 units in a targeted area in Stasis for 40 seconds. While in this state, units cannot attack, move, or use abilities, and are immune to all other abilities and damage.
Recall
Cost: 150 150
Research Time: 100 seconds


Allows Arbiters to use the Recall ability on a targeted area, teleporting units within the selected area to the Arbiter's position.
Khaydarin Core
Cost: 150 150
Research Time: 138 seconds


Increases the starting energy of Arbiters by 12 and their maximum energy by 50.
Related Links
Edit
Ad blocker interference detected!
Wikia is a free-to-use site that makes money from advertising. We have a modified experience for viewers using ad blockers

Wikia is not accessible if you've made further modifications. Remove the custom ad blocker rule(s) and the page will load as expected.