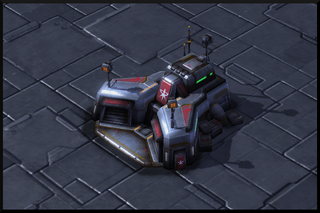 Description
Edit
The "Academy' is an infantry research facility. Allows training of and Enforcers, Medics and Firebats at the Barracks. Allows scans to be used from Orbital Commands.
Building Information
Edit
Attributes: Armored - Mechanical - Structure
Cost:
150


Build time: 67 seconds
Hit Points: 600
Armor: 1
Sight Range: 9
Requires: Barracks
Unlocks:
Barrel Stabilizers
Cost: 150 150
Research Time: 86 seconds

Restoration
Cost: 100 100
Research Time: 65 seconds


Allows Medics to use the Restoration ability to remove all negative effects from a target unit.
Related Links
Edit
Ad blocker interference detected!
Wikia is a free-to-use site that makes money from advertising. We have a modified experience for viewers using ad blockers

Wikia is not accessible if you've made further modifications. Remove the custom ad blocker rule(s) and the page will load as expected.